EyeEye to the future
99 photo NFTs
from The Blossom expedition
At EyeEye, we work to preserve exceptional photos of the physical past for the digitized future. To take this idea as far as we can, we have decided to offer a limited number of artistically restored 99 years old celluloid negatives as unique photographic NFTs. A truly rare and physically scarce collection.
Series 1 – will be minted on 24.03.2022
Series 1 – will be minted on 24.03.2022
Series 1 – will be minted on 24.03.2022
Series 1 – will be minted on 24.03.2022
Series 1 – will be minted on 24.03.2022
Series 1 – will be minted on 24.03.2022
THE BLOSSOM
NFT EXPEDITION
Our voyage into the new world of digital art will take place on the Blossom NFT Expedition. The real world expedition set sail 99 years ago, in 1923, from Connecticut, USA to Africa, South America, and the islands of the South Atlantic Ocean. We will, of course, be releasing 99 NFTs in four series for the journey in to the Metaverse.
The photos from The Blossom Expedition
Because the Blossom Expedition was a scientific exploration (its purpose was to collect and study birds), these photo NFTs come with full documentation of time, place and subject description, despite being 99 years old. For anyone who has ever wanted to own rare images of our shared cultural history, this is a unique opportunity. The patina of time is clearly visible in the 99 year old photos aiding you to travel back in time as passenger on the expedition. The three-masted schooner that carried the expedition was the Lucy R, built in 1920. Upon purchase by the Museum, she was renamed the Blossom in honor of the expedition's benefactor. (Mrs. Dudley S. Blossom.)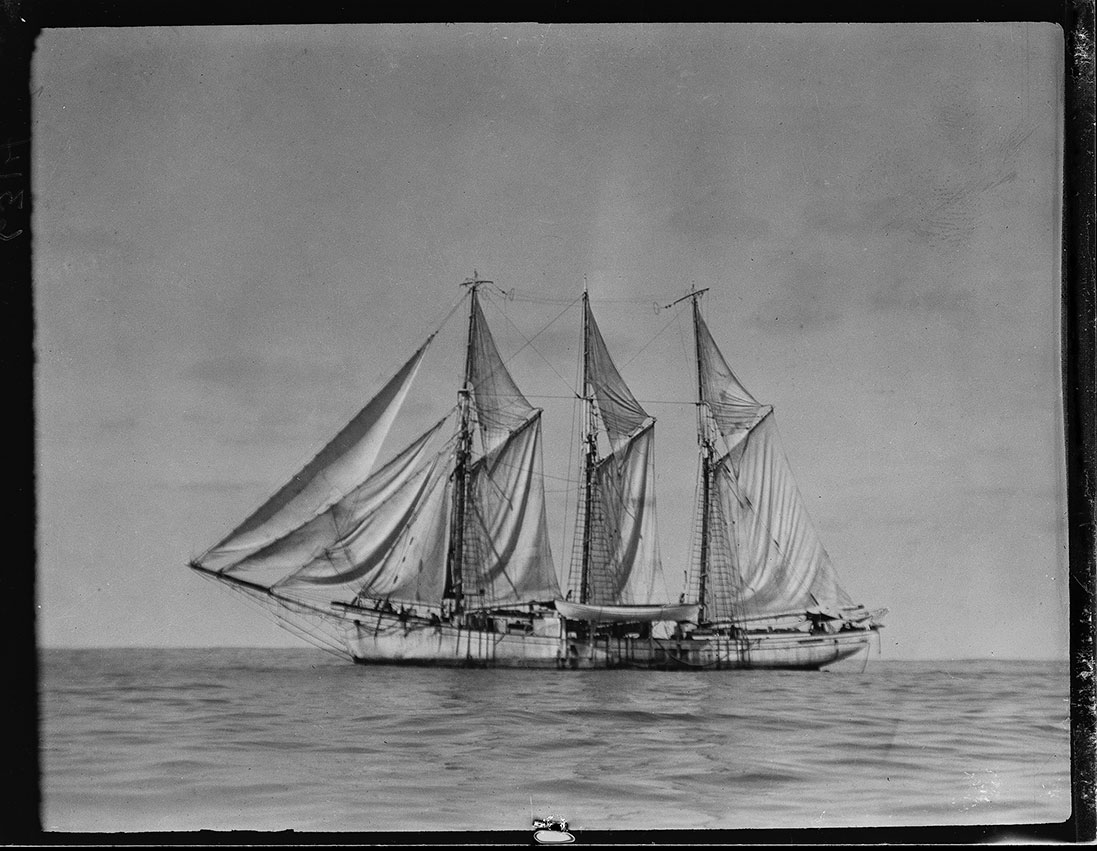 The Blossom
Dec. 23, 1924-Jan. 20, 1925: Trinidade Island (Treasure Island)
"With the lure of the pirates' island till undimmed, but with a third of our men sick with fever and incipient pneumonia, we spread sail and made for the port of Rio de Janeiro and a hospital."
The ship had  a photographic dark room, a radio room and a drying room for specimens. 
The ship was completely overhauled and equipped with everything necessary for a long voyage. In addition to a large cabin that provided living space for the crew, there was a photographic dark room, a radio room and a drying room for specimens. George Finlay Simmons, a Texas ornithologist was hired as expedition leader, and a crew of 15 embarked on a nearly three-year Atlantic voyage to fill the museum's shelves with bird, reptile, fish, plant and some geological specimens. Captain Emery Gray was selected to command the ship. John da Lomba, a native of the Cape Verde island of Brava and an experienced sailor, ably assisted Gray. Manuel Tomas Chantre, a former US Navy sailor, served as navigator. Carl Robertson, a reporter from Cleveland's The Plain Dealer, was on board to send back eyewitness reports.
Along with a crew of seven college men, the expedition set off on October 29, 1923. The Blossom reached back to Charleston, South Carolina on June 4, 1926, after traveling 20,000 miles in 31 months. The men's journey was one of adventure, mishaps, exotic islands, humor, colorful characters and even a little romance.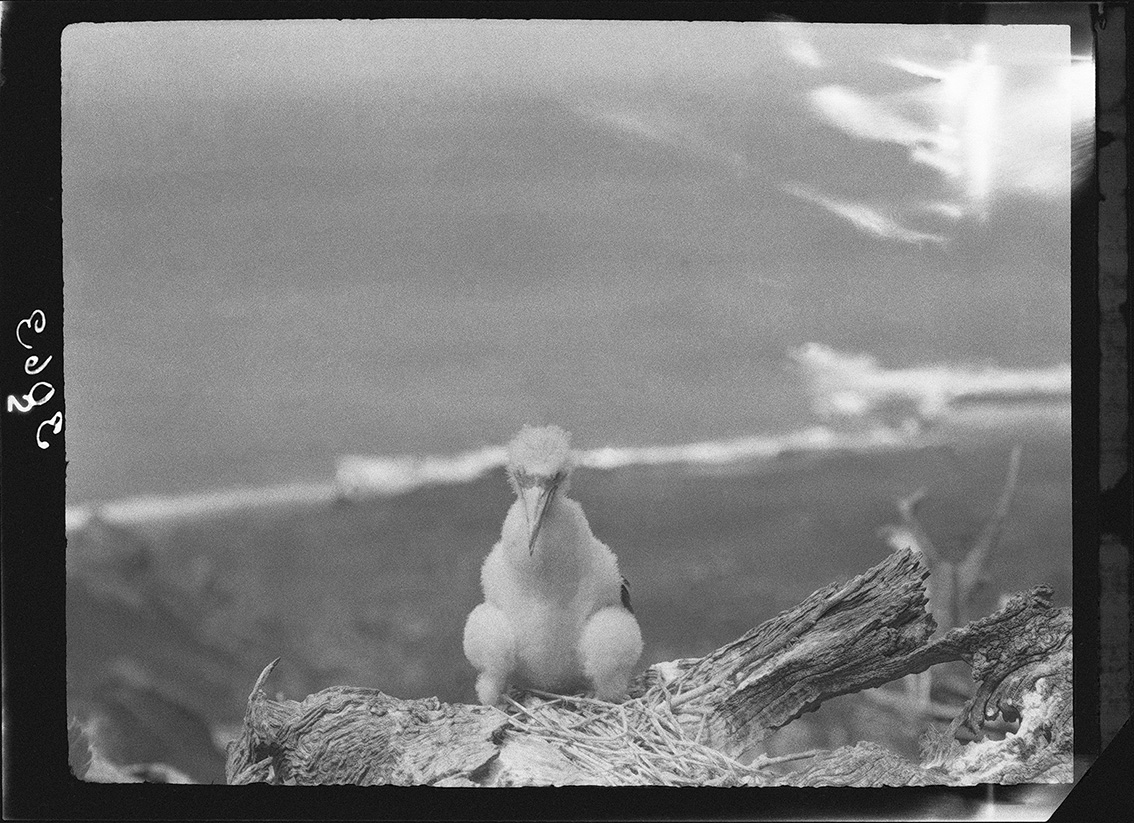 "Along the shores we found strange pelicans, gulls, terns, and cormorants; and in the marshes, for we were there through the raint season, we found queer little grebes, long-toed jacanas, herons and egrets. Vultures and hawks loitered about the native slaughter pens."
The work behind the Blossom NFT Expedition
From a historic collection of hundreds of photos, only a few made its way to The Blossom NFT collection. They have all been artistically restored for their aesthetic quality in four series. All 25 NFTs in each series is unique. However there are artistically restored variations of the same photo.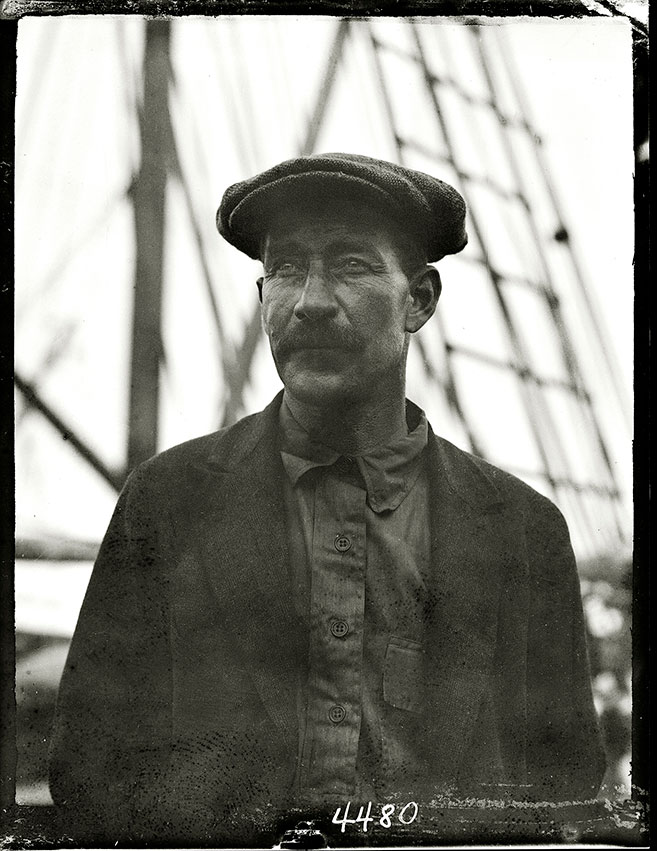 Field naturalist Allan Moses
Each NFT gives you ownership to the unique digital image on the Cardano blockchain
Some photos in each series are more rare since only one variation is created, but rarity is not the only aesthetic parameter. Collecting a series of variations has impressive value to the owner. Each NFT gives you ownership to the unique digital image on the Cardano blockchain.
The image resolution of the NFT is high enough to flawlessly exhibit on 4K screens or print in 180×100 cm. It will be stored eternally on the InterPlanetaryFileSystem (IPFS) at a size of 25MB. EyeEye has one mission and that is restoring the images so what you decide to do afterwards is your choice and value.
If you decide to sell your NFT on the second market that is possible with a few clicks on your mobile phone at one of the many marketplaces for Cardano NFTs. With each sale there is a royalty of 10% that goes to EyeEye.
The Cardano blockchain for The Blossom NFT collection
FAQ and ROADMAP for The Blossom NFT Expedition
What Blockchain are you using for the NFT?
As our NFT blockchain, we have chosen Cardano (ADA), because it is secure,
environmentally friendly with low energy usage, and ethically aware of the global
world we live in. The Cardano blockchain creates ways for everyone to have
permissionless access to the values of the world.
The Policy ID is xxxxxxxxxxxxxxxxxxxxxxxxxxxxx
The mint of the NFT. How does it work?
In order to buy this art you need to enter the world of cryptocurrency where NFTs exist.
Dont be spooked! It will be common in the years to come but right now it is like the Blossom expedition; You need to enter unknown land to bring back rarities.
Before minting date prepare yourself and do the following:
Step 1. Create a Cardano wallet with either Nami or Yoroi
Step 2. Register on the crypto trading platform Firi.dk
Step 3. Purchase ADA on the platform.
Step 4. Transfer ADA to your wallet
Step 5. Be ready to send ADA for the mint on the given date.
Watch the video for full understanding on how to do it.
So what is this Mint thing?
Minting is where each unique photo NFT is created on the blockchain. To be true to the crypto spirit of fair acces for all, nobody will know what piece of art they will get.
Rich and poor alike have the same democratic opportunity in this minting process.
When time is up on our official webpage a buy button will appear and once clicked you will have 20 minutes to send the correct amount of ADA to the given address.
Copy the address from the webpage and paste it to the send address in your wallet.
No need to hurry since your NFT is reserved for 20 minutes.
When the amount is received a random NFT will be picked by the algorithm and returned to the senders wallet.
How many NFTs can I buy per transaction?
Only one NFT is allowed per transaction but you can make additional transactions if you wish.
Do you have a ROADMAP for the project?
ROADMAP
Q4 2021
– Twitter account
– Discord channel
Q1 2022
– Website for the Blossom NFT Expedition
– Marketing Twitter, cnftcalendar, network
– Setting up minting on Cardano Blockchain
– Launching NFT series 1
– Launching NFT series 2
Q2 2022
– Launching NFT series 3
– Launching NFT series 4
We will develop the option for NFT holders to rent out their art for exhibitions in museums art galleries and companies. This way NFT holders will get return value of their NFTs without giving up ownership in their wallet.
THE BLOSSOM
NFT EXPEDITION
Get on board and follow us (so me ikoner etc)